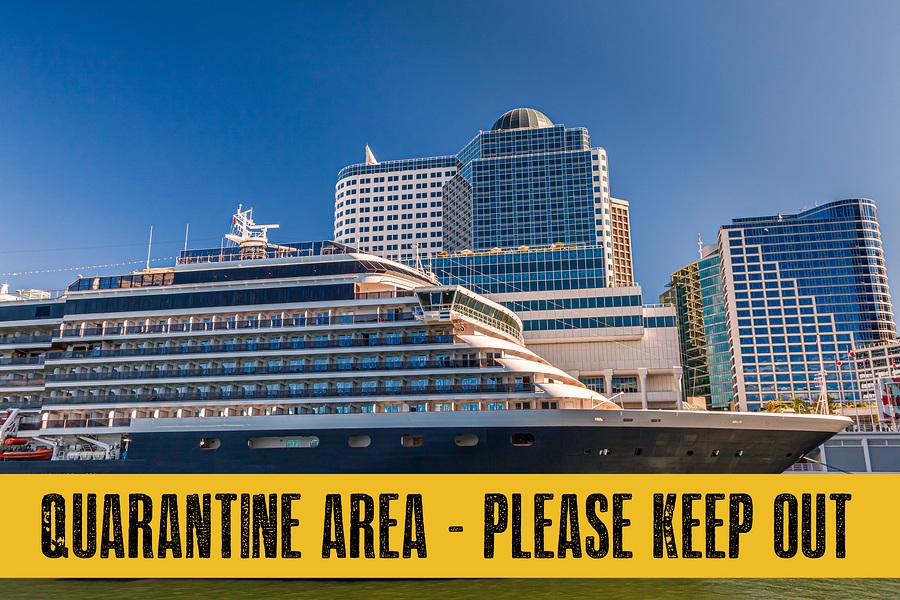 The coronavirus outbreak has those in the travel industry on high alert, including members of the cruise industry. In the event someone on a cruise ship exhibits any of the symptoms of the virus, cruise personnel must conduct a ship quarantine to keep any individuals who are high-risk from spreading the virus to the other cruise ship passengers and crew.
It is important that this quarantine begin immediately to keep the virus contained during the disease's infectious period. The incubation period for the coronavirus, also referred to as COVID-19 is 14 days or less.
Recently, 2,666 passengers and 1,045 crew members on Carnival's Diamond Princess cruise ship were quarantined after their ship was docked at the port of Yokohama.  A passenger onboard the ship was diagnosed with the coronavirus and eight other passengers experienced symptoms associated with COVID-19.   They have been quarantined for 14 days.
American tourists who were on the Diamond Princess during the quarantine have shared their experience with the media. Passengers said they were isolated in their suites, and during this time, room service was halted.  Some food was delivered to their doors, but the wait was long.
Many of the ship's elderly passengers were put in a difficult predicament as they began to run out of prescription medication, including insulin to control conditions such as diabetes. They may have had enough medication to last them on their voyage, but they did not plan on an extended quarantine period.
Cruise ship passengers are given scheduled break times and can be on the ship's upper decks, so long as they wear protective masks and gloves. However, many do not want to take even that level of risk of being exposed. Passengers are also being provided counseling services, considering how stressful the experience has been. As more and more passengers are diagnosed or report symptoms, passengers who are still healthy are becoming increasingly worried.
One father and his three-year-old daughter who left China due to concerns regarding the virus spent two days under hospital observation after landing at the Miramar air base in San Diego just last week. They were given a 14-day-quarantine on the airbase. While the younger girl was able to swing outside and exercise on the base, they were still informed they needed to stay on the base until the quarantine period was over. The man's wife was left caring for her dying father who was suffering from the virus. Now she is also infected with the coronavirus.
Currently, more than 45,000 cases of the coronavirus have been reported globally, making this disease a global epidemic.  A total of 1,370 people of died from the disease. At this point, government officials are simply scrambling to contain it before it can spread any further.
The 14-day quarantine of the Diamond Princess is scheduled to end on February 19, 2020. At this point, any passengers who have not been re-exposed to the virus will be able to disembark from the ship unless anything changes.
INJURED ON A CRUISE SHIP OR CRUISE SHIP EXCURSION? SPEAK TO A CRUISE SHIP ACCIDENT LAWYER TODAY: 1-866-597-4529.
Aronfeld Trial Lawyers is a personal injury firm located in Miami, Florida since 1991.  We have fought hard to hold cruise lines accountable when they put their profits ahead of passenger safety.  We are available 24/7 and encourage you to contact us even if you are still on your cruise. The sooner we can begin our investigation and preservation of key evidence, such as the CCTV footage of your trip and fall, slip and fall, assault or other type of injury the more likely we will be able to understand and prove how the incident occurred. Remember, the cruise lines have the most aggressive and well-funded defense lawyers in the world- protecting their profits.  You need an experienced legal advocate in your corner who will fight to obtain the compensation you deserve for lost wages, medical expenses, transportation reimbursement and pain and suffering.  Call us today and speak with a cruise ship claims lawyer about your potential claim- toll free 1-866-597-4529, 305-441-0440, or by email. We are ready to help.