Port of Galveston Announces Arrival of New Carnival Cruise Ship and Upcoming Itineraries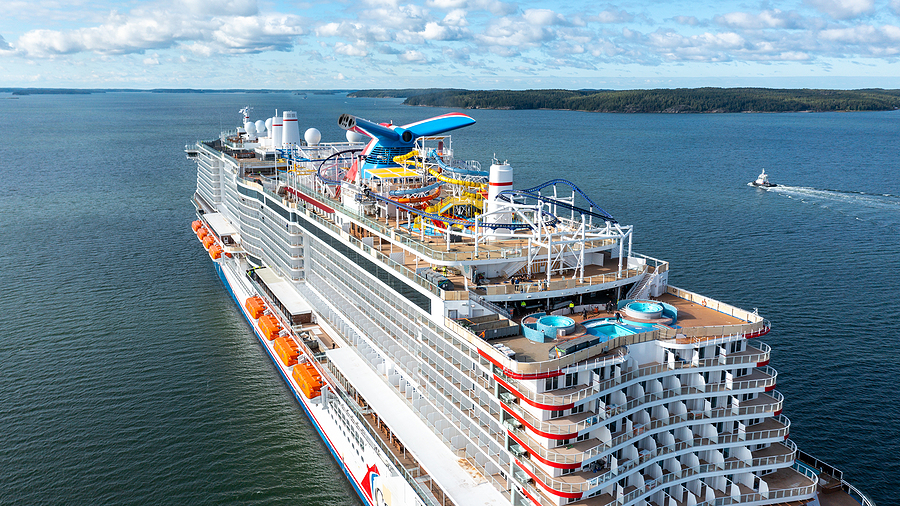 Port of Galveston is preparing to welcome its newest Carnival Cruise Line ship, the Carnival Jubilee, which is scheduled for its maiden voyage in December 2023. In addition, Galveston has announced new itineraries for ships whose homeports are at the Port of Galveston, which are scheduled for spring of 2024. 
Carnival's ships, Breeze, Dream, and Jubilee will sail from Galveston from May 2025 until April 2026, giving residents and visitors to the Texas port new cruising options.
The Carnival Jubilee will be offering seven-day voyages to the Western Caribbean and Mexico with stops at popular destinations, including Cozumel, Costa Maya, and Isla Roatan.  
The Jubilee proudly displays a Texas star on its funnel and weighs around 183,521 tons. This vessel is Carnival's latest LNG-powered vessel. The ship will offer two brand-new ocean-themed zones, The Shores, and the Currents. The Jubilee is the third Excel-class ship, coming after Mardi Gras and Carnival Celebration. 
Another vessel that calls Port of Galveston its homeport, the Carnival Dream offers six and eight-day voyages to the Western Caribbean and Mexico. Passengers on the Dream will visit various stops in the Western Caribbean, including Mahogany Bay, Belize, and Isla Roatan. They will also be stopping along the Mexican coast at Cozumel and Costa Maya. 
Those passengers enjoying the longer, eight-day cruise will have a tour of the Eastern Caribbean region with stops at Key West, Florida, Half Moon Cay, Freeport, and Nassau. 
Carnival Breeze also calls Port of Galveston its home. The Breeze will be offering four and five-day long voyages to Mexico. These trips include stops at Cozumel, while the longer trip will also be stopping in Progreso. 
With the new vessel and the current line-up of trips, it is anticipated that Carnival Cruise Lines will bring approximately 40,000 passengers to Galveston on a weekly basis. Carnival does anticipate announcing additional itineraries in other ports in the next couple of weeks. 
The Port of Galveston is one of the largest and busiest cruise ship terminal ports in the entire world. With 330 projected sailings and over 1.1 million passengers expected this year. The port is located in the city of Galveston which is approximately a 1 hour drive from Houston, Texas.
Our cruise ship passenger injury law firm has represented hundreds of people who have been injured on cruises that have left the Port of Galveston. We also have investigated dozens of people who have been hurt in the port terminal and parking lot surrounding the Port of Galveston.  
The typical type of case that we see for a Galveston cruise ship passenger injury involves broken legs, broken arms, knee injuries, ankle injuries, spinal injuries, fractured hip and pelvis, and traumatic brain injuries. These injuries occur most commonly from people who slip and fall on wet and slippery decks. The cruise lines know that these decks become unreasonably slippery when wet but they often fail to warn passengers or take adequate measures to maintain them in a way so that people do not get hurt.
People who get hurt on cruises that leave from Galveston, Texas are often surprised to learn that their cases have to be litigated not in Houston or Galveston but rather in the United States District Court in Miami Florida. This is because the majority of cruise lines such as Carnival, Royal Caribbean Cruises, Norwegian, and others require that lawsuit to be filed in Federal Court in Miami, Florida, which is where they maintain their corporate offices.
If you have sailed out of Galveston, Texas, and have been hurt on a cruise we will provide a free legal consultation with you regarding your legal rights. Our office will be happy to speak with you today over Zoom, Google Meet, FaceTime, or telephone and a maritime personal injury lawyer will advise you as to whether or not we believe you have a case. 
CONSULT WITH A MIAMI CRUISE SHIP PASSENGER INJURY ATTORNEY
Aronfeld Trial Lawyers
has obtained millions of dollars in compensation for injured cruise ship passengers. We are constantly filing lawsuits against Carnival, Royal Caribbean and Celebrity and other cruise lines around the world in 
Federal Court
.
Since 1991, our law firm has helped injured passengers hold the cruise lines accountable. We work hard to get our clients compensation for lost wages, medical expenses and pain and suffering. The cruise lines are part of a multi-billion dollar industry and employ the most aggressive and experienced maritime lawyers–which is why you need experienced legal counsel on your side, too.
Call
Spencer Aronfeld today, Board Certified Civil Trial Lawyer for a free consultation.