Royal Caribbean Makes History with Latest Transatlantic Cruise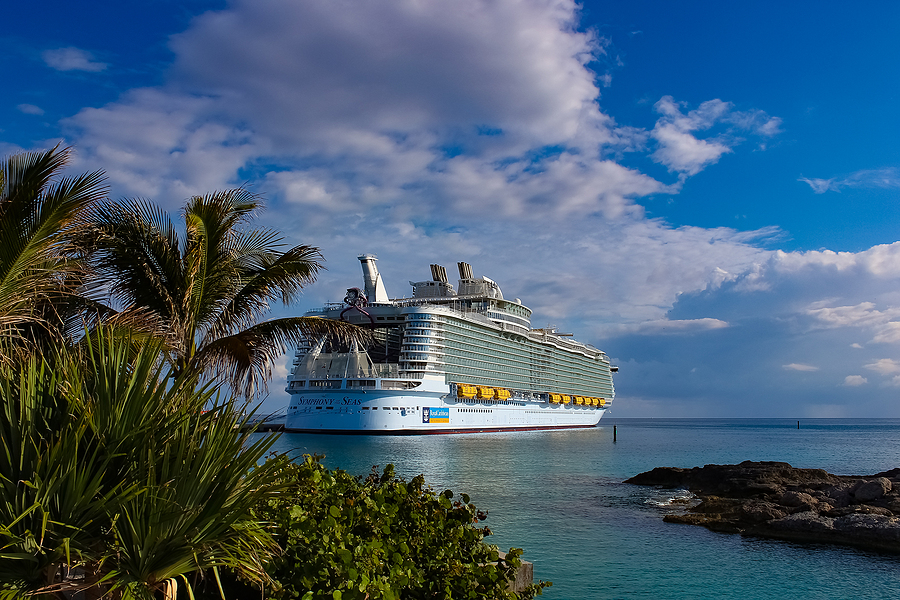 Royal Caribbean made history this month after completing a transatlantic cruise carrying more than 7,000 people, including passengers and crew. This transatlantic voyage marks the first time the Symphony of the Seas has been back in European waters after five years.
The Symphony of the Seas departed from Miami on March 9, heading towards Europe for a 12-night voyage, ending with a final stop in Spain. This 12-night cruise is part of Royal Caribbean's upcoming summer program in Europe.
According to Royal Caribbean, the vessel was almost 100 percent occupied, carrying a total of 7,604 individuals. Of those onboard, 5,350 were passengers, and 2,224 were crew members.
Once the ship left Port Miami, it sailed for nine days before reaching the Spanish port of Málaga on March 19. The trip ended on March 21 in Barcelona, with a stop in between at Valencia, another port in Spain. This repositioning transatlantic voyage did have a one-way itinerary for passengers onboard, and following the crossing of the Atlantic Ocean, the vessel was scheduled to be drydocked at the Navantia shipyard in Cádiz, Spain, where it will receive routine maintenance, including a technical overhaul, class work, hotel upkeep, and other minor upgrades. After receiving this routine maintenance, on April 16, the Symphony of the Seas will kick off a program of several seven-night cruises throughout the Western Mediterranean. During this program, the ship will depart from Barcelona every Sunday for seven nights, stopping at ports of call including Palma De Mallorca, Marseille, La Spezia, Civitavecchia, and Naples. These Western Mediterranean trips are scheduled to take place through October 29. Once the summer program is complete, the Symphony of the Seas will cross the Atlantic Ocean again in late October in another repositioning voyage, where it will sail from Barcelona to Fort Lauderdale with stops to Valencia, Cádiz and Nassau.
Queen Mary
Interestingly enough, the Symphony of the Seas is not the only one setting a transatlantic record. This honor is held by Cunard Line's Ocean liner, Queen Mary. In July 1943, Queen Mary set the transatlantic record for crossing the Atlantic Ocean carrying 16,683 crew members and troops on a single trip. During World War II, the Queen Mary transferred a total of 765,429 military personnel between the United States and the United Kingdom.
According to Sir Winston Churchill, Queen Mary and her sister vessel Queen Elizabeth were largely responsible for shortening the span of World War II.
The Symphony of the Seas' transatlantic voyage can be differentiated from Queen Mary's as this trip did not take place during war time and included the largest number of paying guests and crew members on a voyage.
Royal Caribbean's Focus on Europe in 2023
This repositioning transatlantic voyage to Europe is just one example of how Royal Caribbean is placing a large emphasis on European trips in 2023. In fact, the company will have nine of its cruise ships based in the Mediterranean, the United Kingdom, and Western Europe this summer.
The vessels sailing in European waters include the following:
Symphony of the Seas,
Anthem of the Seas,
Odyssey of the Seas,
Serenade of the Seas,
Explorer of the Seas,
Brilliance of the Seas,
Rhapsody of the Seas,
Voyager of the Seas
Jewel of the Seas
The Anthem of the Seas will be offering seven-night cruises to Spain and France, as well as to the Norwegian Fjords. The vessel will be based out of Southampton, England. The Odyssey of the Seas will be based out of Rome Italy, offering seven- to nine-night cruises from Rome to Naples, stopping in the Greek Islands and Turkey. The vessel will also be offering 12-night voyages to the Holy Land with calls in calls in Limassol, Cyprus; Ephesus (Kusadasi), Turkey; and Jerusalem, Israel.
Serenade of the Seas has scheduled 8-night sailings to the Western Mediterranean, as well as 12-night cruises to the Greek Isles and 5-night sailings to Italy and France from Barcelona. Explorer of the Seas has scheduled 7-night cruises from Ravenna, Italy, to Olympia, Greece, as well as Kotor, Montenegro, and Chania, Crete.
Another vessel sailing from Rome, Ravenna, Athens, and Barcelona, on various itineraries includes Brilliance of the Seas. Rhapsody of the Seas will be based out of Haifa, Israel, as well as Limassol, Cyprus, and will offer a series of cruises ranging from four- to -seven-nights to Turkey, Israel, and Greece.
Lastly, Jewel of the Seas and Voyager of the Seas will be sailing on cruises around both Western and Northern Europe, sailing from destinations such as Amsterdam, The Netherlands, Denmark, and Sweden.
What to Know When Taking a Transatlantic Cruise
A transatlantic cruise is not your average cruise. These voyages are crossings between two continents and can be quite an adventure and experience for passengers, which is why many people have transatlantic voyages on their bucket lists. Transatlantic voyages used to be the only way to travel from one continent to another, prior to the invention of airflight, and many cruise enthusiasts see these trips as throwbacks to that time. However, they are not the right type of trip for just any average cruise guest. These voyages are particularly appealing to individuals who wish to remain on the vessel and relax with no schedule in mind, staying on the open waters for days at a time. With very few ports of call, the time on the ship itself becomes the focus of the trip.  Many of these voyages offer personal enrichment options, including spa days, dance lessons, guest lecturers, wellness programs, and other daily onboard activities. However, for those who do not wish to follow any particular schedule, transatlantic voyages can simply be a nice time to relax, read a book, and enjoy the waters with no interruptions.
Types of Transatlantic Cruises
Several different options exist for the types of transatlantic cruises that can be taken by passengers. One of the most common types is the repositioning cruise. A repositioning cruise is essentially a one-way ticket for passengers to travel across the Atlantic Ocean, from one continent to another. Instead of having a cruise ship cross the ocean empty, many cruise lines sell these repositioning cruises, usually at a discount. They are common for trips between Europe and the U.S. or Caribbean or from Asia to Australia. The itineraries for these trips normally range between 12 to 16 days and will make a few popular port stops, such as Puerto Rico, Portugal, or the Canary Islands. The Symphony of the Seas trip was a repositioning transatlantic voyage since the vessel was going from the Caribbean to sail along the Mediterranean coast.
Another option is to take a transatlantic crossing voyage. A cruise company that does this quite often is Cunard Line's newly renovated Queen Mary 2. This vessel sails between Southampton and New York City. Between these locations, the vessel does not stop at any ports of call. The trip is described as a posh voyage where the trip lasts at least seven days in each direction.
Which Cruise Lines Offer Transatlantic Voyages?
Cunard is one of the cruise lines that offers the most options for transatlantic voyages. They have a rich history of offering these types of trips and are considered the gold-standard when it comes to transatlantic cruises. In addition to Royal Caribbean and Cunard, several other luxury cruise lines, such a Regent Seven Seas, Viking, and Windstar.
One thing to keep in mind when booking a transatlantic cruise is book trips between April and December. Any cruises after December or before April can mean cold, unpredictable weather. For cruise voyages coming from the Caribbean, keep in mind that June to November is hurricane season, which makes April or May prime time for transatlantic repositioning voyages.
Benefits of a Transatlantic Cruise
Transatlantic cruises can be appealing for several reasons. One reason passengers choose these types of trips is they can go from one continent to another without dealing with jet lag or annoying flights. These voyages also give transatlantic travelers a slower paced, more relaxing way to go from one continent to another.
Additionally, because repositioning and transatlantic cruises are longer and offer fewer offshore excursion opportunities, cruise lines tend to keep these prices competitive to entice more travelers to book these cruises, which makes the prices cheaper than other cruise vacations.  Fewer people tend to book transatlantic cruises due to their length and the fewer offshore opportunities, so cruise lines are always looking for ways to financially encourage people to purchase tickets for transatlantic voyages.
Transatlantic voyages are also excellent vacation opportunities for vacationers looking to relax at sea. These trips offer more consecutive sea days and fewer stops along the way with planned activities. The shorter cruise voyages with multiple stops at various ports of call often leave guests with a feeling like they need a vacation from their vacation. Alternatively, a transatlantic voyage may leave guests feeling much more relaxed and satisfied, depending on the traveler.
One thing to keep in mind when booking transatlantic cruise voyages is to pack for all possibilities. Weather at sea can be unpredictable, so preparing for all types of weather, including warm and cool weather, so it is best to pack for all occasions. Additionally, be sure to research the dress code prior to packing. Many of the luxury cruise lines, such as Cunard, include formal nights, and since you will not be stopping at ports along the way, shopping options will be extremely limited. As with anything, it helps to do your research ahead of time.
INJURED ON A CRUISE SHIP OR CRUISE SHIP EXCURSION? SPEAK TO A CRUISE SHIP ACCIDENT LAWYER TODAY: 1-866-597-4529.
Aronfeld Trial Lawyers is a personal injury firm located in Miami, Florida since 1991.  We have fought hard to hold cruise lines accountable when they put their profits ahead of passenger safety.  If you have been Injured on board an RCCL ship, your lawsuit claim must be filed in Federal Court in Miami, no matter where around the world you fell. Our attorneys are available 24/7 and encourage you to contact us even if you are still on your cruise. The sooner we can begin our investigation and preservation of key evidence, such as the CCTV footage of your trip and fall, slip and fall, assault, or other type of injury the more likely we will be able to understand and prove how the incident occurred. Remember, the cruise lines have the most aggressive and well-funded defense lawyers in the world- protecting their profits.  You need an experienced legal advocate in your corner who will fight to obtain the compensation you deserve for lost wages, medical expenses, transportation reimbursement and pain and suffering.  Call us today and speak with a cruise ship claims lawyer about your potential claim- toll free 1-866-597-4529, 305-441-0440, or by email. We are ready to help.