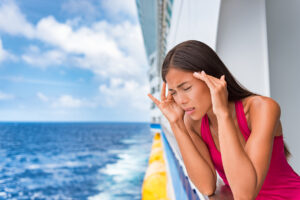 Cruise vacations are meant for rest and relaxation. No one wants to get sick or injured while on a cruise, but unfortunately, it does happen. It is important to know how a cruise ship handles medical emergencies, including knowing what types of situations they do handle and what illnesses or injuries are not handled onboard.
Emergency Treatment Onboard a Cruise Ship.
Many passengers assume they will have the same medical care and treatment on a cruise as they would on land, which is simply not the case.  There are also unique health risks on cruise ships. Many cruise ships have doctors on board, trained in emergency medicine- but some do not, and they are not required to.
Some of the most common passenger injuries we see as maritime lawyers include misdiagnosed fractures, head injuries and spinal injuries. Oftentimes the doctors and nurses that provide the medical care and treatment onboard these ships are not professionally trained to diagnose these injuries. If you have been injured on a cruise, it is important to get a second opinion immediately from a competent board-certified medical doctor as soon as you arrive on land.
What Medical Equipment is Onboard a Cruise Ship?   
Most cruise ships are equipped with a basic healthcare facility to treat emergency and non-emergency medical issues. These facilities include several beds, X-ray machines, defibrillators, and ultrasound machines. Additionally, these facilities are normally equipped with telemedicine facilities that allow medical staff on the ship to consult with doctors on shore for appropriate medical treatment for injured or sick passengers.
What Is Considered Non-Emergency Care?
Cruise ships are equipped to treat a number of non-emergency medical conditions onboard. If a passenger is suffering from congestion related to a sinus infection, the onboard medical doctor can prescribe antibiotics. Additionally, if someone is suffering from an allergic reaction or food poisoning related to food on the vessel, these types of medical issues are considered non-emergent and can be cared for onboard.
If a passenger indicates that he or she is feeling sick, cruise officials recommend that he or she receive a quick check-up. If the cruise ship's medical personnel determines that the passenger is feverish or contagious or present a danger to others on the ship, the patient may be quarantined from other passengers on the ship until they can safely be transported from the vessel at the next port of call. If a passenger is under medical quarantine, he or she will be required to remain in his or her room and must take all meals until the passenger is symptom free for at least 72 hours. Even if the passenger is feeling better before those 72 hours have lapsed, he or she must remain in the cabin under quarantine.
If the cruise ship doctor says the passenger is too sick to remain onboard, he or she must abide by these orders. Once this order has been issued, a member of the cruise line's Care Team will ensure that the patient receives proper care and will accompany him or her to the hospital.
What is the Most Common Type of Injury on a Cruise Ship?
A lot can happen on a cruise ship, especially with all of the wet surfaces, including wet decks and stairs. Because of this, the most common type of injury reported on cruise ships is a slip and fall on wet surfaces. To avoid these types of injuries, passengers should use the handrails available to them and watch for signs indicating steps, spills, or uneven decks. Be aware of the fact that you are also traveling on a large moving vehicle at sea, which means surfaces are not always steady at all times. Pay attention and be aware of your surroundings at all times in order to avoid injury. Depending on how the slip and fall occurs and what injuries result, medical treatment can be pretty extensive or fairly basic.
Typically, a cruise line will obtain a "Passenger Injury Statement," which they use to discredit a passenger and as a tool to destroy any potential claim.  If you have been injured on a cruise by falling on a wet deck, it is important to understand how and why the accident occurred and what the cruise line did and did not do to prevent it. We recommend that you consult with an experienced cruise ship accident lawyer as soon as possible following any incident so that a comprehensive investigation can be performed as quickly as possible.
Common Types of Illnesses Caused by Cruise Line Negligence:
Generally speaking, there are three specific diseases passengers can contract as a result of a cruise line's negligence. These illnesses include:
Norovirus;
Food poisoning; and
Legionnaire's Disease.
The level of liability that falls upon the cruise line depends on how serious the illnesses are, as well as the circumstances through which the illness was contracted.
What Is Norovirus?
Norovirus is more commonly known as the stomach flu. This illness involves nausea, vomiting, diarrhea, headache, fever, and abdominal cramps. It is definitely not the type of illness someone wants to contract while confined to a boat out at sea. Norovirus is extremely contagious and can spread from physical contact with someone who has the illness or by touching something that someone who had the illness touched. It can also spread by contaminated food or water. Therefore, if a cruise ship employee had the norovirus and spread this illness through food he or she handled or prepared, the cruise line could be held liable.
What Is Food Poisoning? 
Food poisoning is actually quite common when it comes to any type of industry where food is being prepared and served.  If a sanitary violation occurred by one of ship's personnel when preparing food for passengers on the ship, it is possible that the cruise could be held liable for food poisoning illnesses contracted by passengers on board.
What Is Legionnaires' disease?
The previous two illnesses are serious by all means, but Legionnaires' disease is an extremely devastating health condition. The disease has a fatality rate of around 15 percent, and even if someone does survive after contracting the disease, getting back to "normal" can take years. Legionnaires' disease actually comes from a bacterium, specifically the Legionella bacterium. It is commonly found in warm water, like in hot tubs, but it also can grow in larger, more complex heating and plumbing systems found in hotels, cruise ships or office buildings.  The bacterium is killed by hot water. An outbreak of Legionnaires' disease is serious, and it can be caused by cruise ship negligence, such as when the ship does not heat the pools or hot tubs on board sufficiently enough to kill the bacterium.
When is Medevac Utilized?
When a medical emergency occurs on the ship, the medical staff's first goal is to provide the initial care needed to stabilize the patient. If it is at all possible, it is preferred that the patient be transferred off the ship at a port of call with appropriate medical facilities. However, this transfer is not always possible, depending on how far out into the ocean the vessel is. In these situations, injured or ill passengers are medevacked via water ambulance or helicopter to the closest medical facility. Keep in mind that if someone is medevacked from the vessel, it is highly unlikely that he or she will be able to rejoin the trip later.
Cruise lines have policies that outline under which conditions passengers should be medically disembarked from the ship. Under these policies, the cruise ship's medical staff has the discretion to determine whether the sick passenger is not fit to continue sailing. If the medical staff determines that the cruise passenger has a condition that is likely to endanger the health or safety of others on the vessel, that passenger will be required to disembark. Cruise medical staff then will make the necessary arrangements to ensure passengers are transferred to a medical facility off the ship.
Onboard Pharmacy
Cruise vessels come equipped with basic pharmacy facilities. If passengers forget their medications at home, they can get these medications at these facilities, or if the passenger falls ill and is prescribed an antibiotic, this medication can also be obtained from one of these pharmacies. If the passenger is not able to get the medication needed from the onboard pharmacy, his or her other option is to wait until stopping at a port of call to visit an offshore pharmaceutical facility. Space is limited on a cruise ship so cruise lines can only stock what they can hold. To accommodate this fact, cruise lines have a formulary they used, which includes a list of medications that are needed to treat most diagnoses made onboard.
What Does It Cost to Receive Medical Treatment Onboard a Cruise Ship?
When a passenger is treated onboard a cruise ship by a medical professional, he or she should expect to be charged. The cost of this treatment will be billed to the passenger's room. Cost can vary depending on when the passenger seeks medical treatment, such as during regular hours or if the doctor had to visit his or room, as well as the type of treatment that is sought.
Insurance Coverage for Cruise Ship Injuries
Once the bills have been processed, payment must be made. Many times, passengers are not aware of the fact that their health insurance plans do not cover medical expenses that are either incurred at sea or in a foreign country. Cruise lines do not care who or what entity pays for these expenses, as is the case with Carnival Corp., which requires passengers to pay for medical services and later submit receipts to their insurance company for reimbursement.
Onboard medical care can get expensive, depending on the type of care being received. For example, a medical evacuation from the ship can cost the passenger up to $10,000. It is for this reason that most travel agents recommend passengers purchase travel insurance before leaving to cover possible medical bills, especially when traveling abroad. Before deciding upon a policy, the passenger should make sure that the coverage includes transportation, both on land and by air, as well as emergency room and hospitalization, medications, and accommodations for anyone traveling with the passenger. Travel insurance normally costs between five and eight percent of the total cost of the trip, which pales in comparison to the actual costs of medical treatment.  Doing the proper amount of research and policy comparison will save the passenger thousands in the event of the unthinkable. Travel insurance can also cover unplanned interruptions to the trip that do not include illness or injury. If you are not sure what policies would be best for you, it is recommended that you ask your travel agent or cruise agent.
Aronfeld Trial Lawyers has obtained millions of dollars in compensation for injured cruise ship passengers. We are constantly filing lawsuits against Carnival, Royal Caribbean and Celebrity and other cruise lines around the world in Federal Court. Since 1991, our law firm has helped injured passengers hold the cruise lines accountable. We work hard to get our clients compensation for lost wages, medical expenses and pain and suffering. The cruise lines are part of multi-billion dollar industry and employ the most aggressive and experienced maritime lawyers–which is why you need experienced legal counsel on your side too. Call Spencer Aronfeld today, Board Certified Civil Trial Lawyer.
INJURED ON A CRUISE SHIP OR CRUISE SHIP EXCURSION? SPEAK TO A CRUISE SHIP ACCIDENT LAWYER TODAY: 1-888-742-0372.
Aronfeld Trial Lawyers is a personal injury firm located in Miami, Florida since 1991.  We have fought hard to hold cruise lines accountable when they put their profits ahead of passenger safety.  If you have been Injured on board an RCCL ship, your lawsuit claim must be filed in Federal Court in Miami, no matter where around the world you fell. Our attorneys are available 24/7 and encourage you to contact us even if you are still on your cruise. The sooner we can begin our investigation and preservation of key evidence, such as the CCTV footage of your trip and fall, slip and fall, assault, or other type of injury the more likely we will be able to understand and prove how the incident occurred. Remember, the cruise lines have the most aggressive and well-funded defense lawyers in the world- protecting their profits.  You need an experienced legal advocate in your corner who will fight to obtain the compensation you deserve for lost wages, medical expenses, transportation reimbursement and pain and suffering.  Call us today and speak with a cruise ship claims lawyer about your potential claim- toll free 1-888-742-0372, 305-770-6553, or by email. We are ready to help.
SOURCES:
What to Expect on a Cruise: Getting Sick on a Cruise – Cruises (cruisecritic.com)
What if I get sick or hurt on a cruise? Here's what to know (usatoday.com)
Injuries Can Also Happen Before You Get on the Ship, in the Terminal or on the Gangway. Is the Cruise Line responsible then?  Find out in the video below…