Man Goes Overboard Carnival Elation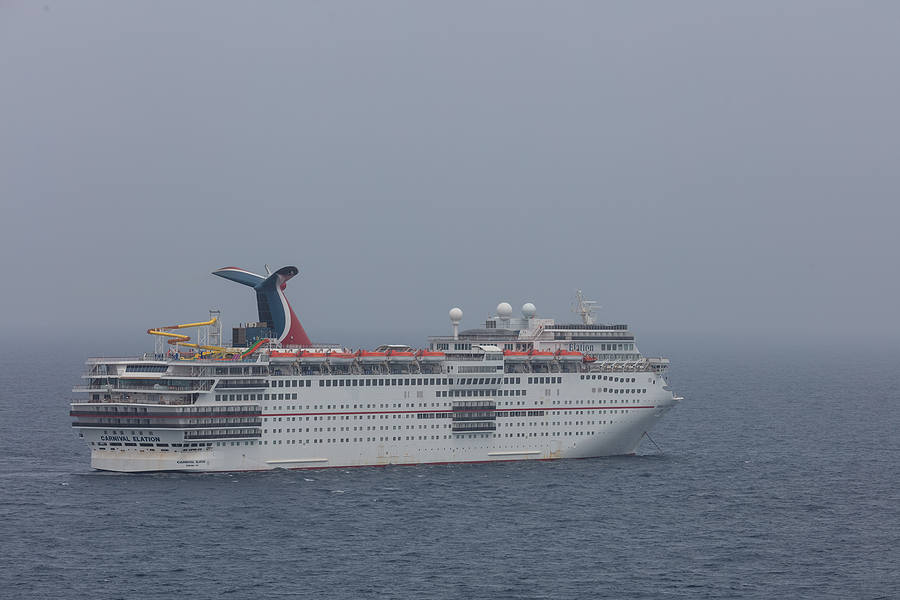 A 30-year-old male passenger went overboard the Carnival Elation on Sunday, July 23, 2023. The ship was heading back to its homeport in Jacksonville, Florida. It was reported that the passenger intentionally went overboard approximately 95 miles (153 kilometers) east of Melbourne. The U.S. Coast Guard launched a search operation for the man off the Florida east coast upon being notified of the incident. Air and surface crews out of Miami, Clearwater, and Coast Guard Cutter Tarpon are actively searching off the Florida coast.
The crew launched a significant search for the missing man, but sadly, after reviewing the onboard security cameras, it was confirmed that the male passenger had jumped overboard. There are still many unknowns surrounding the incident, including whether or not any personal disputes or alcohol may have been involved. It is also unknown why the man was not reported missing earlier that day. 
The 70,367-gross ton Carnival Elation was heading back to Jacksonville at the time to end a four-day Bahamas sailing, which included calls to Freeport and Grand Bahama Island, and the Bimini Islands. The voyage first departed on Thursday, July 20, 2023 out of Florida.
This is the second passenger that has gone overboard a Carnival cruise ship in recent months, as it follows another incident with a 35-year-old male passenger who went overboard the Carnival Magic last month.  Sadly, the passenger was never recovered, despite search efforts that covered more than 5,100 square miles with both air and water assets.
Similar to the man going overboard on the Carnival Elation, the man who went overboard the Carnival Magic was also not reported missing for several hours, which makes search efforts far more challenging.
When search efforts are not able to be initiated immediately, rescue teams must first calculate the ship's position at the time the overboard incident occurred. Local water conditions including currents, surface winds, and storms can cause someone overboard to drift significantly away from the ship's route, and must be factored into search patterns.
Carnival Elation previously had an overboard incident back in February 2017. A 24-year-old man went overboard, while the ship was sailing in The Bahamas. That search was halted after extensive efforts failed to locate the man.
Why do people fall off cruise ships and can it be prevented?
Alcohol, foul play, or suicide are the most frequent causes; but often it is simply impossible to discover the truth — because rarely are bodies recovered. Fortunately, technology exists to sound alerts when a passenger goes overboard. These systems called MOB Detection Devices, include motion sensors, thermal detection systems and drones that are designed to alert the ship's bridge; to stop the ship and immediately deploy search and rescue protocols.
There are a number of factors that can contribute to a cruise ship overboard incident. Some of the most common causes include:
Slippery or wet decks

Suicide

Intoxication or excessive drinking

Overcrowding on decks or in pools

Lack of proper safety equipment or barriers

Poorly maintained ship infrastructure or equipment

Negligence or recklessness on the part of the cruise ship crew
If somebody you know or love has been involved in a cruise ship overboard incident, it's important to understand your legal rights and options. Throughout thousands of cases, our maritime personal injury attorneys have been able to help injured and deceased passenger families receive compensation for their losses.
If you believe that any of these factors contributed to an overboard incident which you are connected to, contact our offices so we can begin the investigative process.
How A Maritime Personal Injury Attorney Can Help
If you've been involved in a cruise ship overboard incident, our team of maritime personal injury attorneys can help you in a number of ways. First, we can help you understand your legal rights and options. We have been advising clients on the best course of action based on specific circumstances for decades, and have been successful in generating plans and arguments to win your case. This may involve negotiating with the cruise line's insurance company or filing a lawsuit against the cruise line. Our offices are located a short drive away from the Miami Federal Courthouse, the courthouse where almost all international cruise ship injury cases are handled, regardless of the date or location of the accident.
Contact us today and speak with an experienced attorney toll free +1-888-742-0372, local +1-305-770-6553, or by email.  We offer a free initial consultation at your home, office, hotel, or hospital.  Virtual sign-ups available.