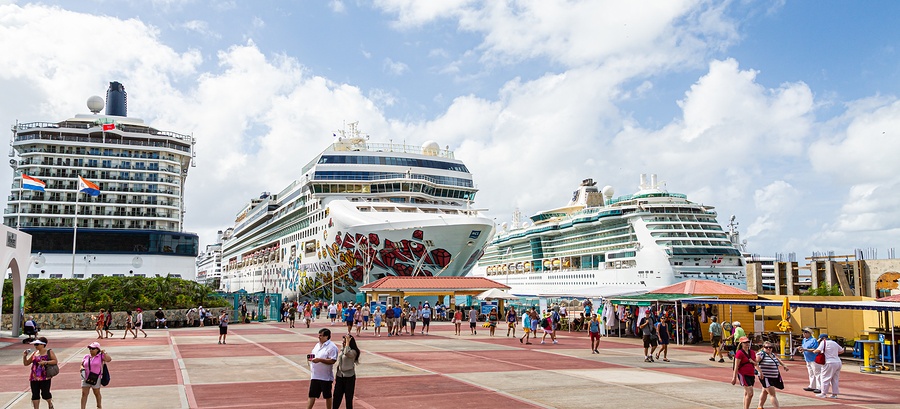 Cruise ships sail in open waters to a variety of destinations worldwide. Maritime law governs injuries on cruise ships, and passengers have just one year from the date of the incident to file a claim. These cases must be filed in Federal Court in Miami, regardless of where the incident occurred and regardless of where the injured passenger is from.
Cruise lines are responsible for the injuries that passengers sustain on and off the ship. However, sometimes, cruise companies put their profits ahead of the safety of their passengers. In fact, this practice is a common one we see at Aronfeld Trial Lawyers, and the results of these decisions are often tragic.
The following instances highlight just some of the examples where cruise companies have put their profits ahead of passenger safety. 
Failure to Provide Lifeguards
For the most part, the rule for swimming while on a cruise ship is you swim at your own risk. The death of a six-year-old boy, who drowned on a Carnival cruise with his family in 2016, highlights the dangers of drowning on today's mega cruise ships. Except for Disney, the other three major cruise lines–namely Carnival, Norwegian and Royal Caribbean–all do not employ lifeguards. In fact, Disney started employing lifeguards only in 2013 after a four-year old Minnesota boy almost drowned while swimming in the pool of their Disney Fantasy cruise ship. The boy suffered serious brain injury requiring lifetime treatment, and Disney was forced to pay millions of dollars in settlements. 
Inadequate Medical Care
No one goes on a cruise expecting to sustain a serious injury or illness. But passengers who require medical treatment on a cruise ship expect that the care they receive will be delivered according to the highest standard. Cruise lines promote their high-end amenities, exciting excursions, 5-star cuisine and celebrity chefs, but what they often do not reveal is the quality of medical care on board the ship.
Many passengers assume they will have the same medical care and treatment on a cruise as they would on land, which is simply not the case.  As cruise ship medical malpractice attorneys, we have seen the devastating effects a misdiagnosis or delay in treatment can have on our clients and their family. There are unique health risks on cruise ships. Many cruise ships have doctors on board, trained in emergency medicine- but some do not, and they are not required to. Some of the most common passenger injuries we see as maritime lawyers include misdiagnosed fractures, head injuries and spinal injuries. Oftentimes the doctors and nurses that provide the medical care and treatment on board these ships are not properly trained to diagnose these injuries.
One example involved Royal Caribbean cruise ship passenger, Amy Tong, who suffered complications from lupus while on a cruise in June 2017. When her husband attempted to get her help, he was first told that the only medical facility on the ship was closed. She eventually did receive assistance from the ship's doctors, but they failed to treat her properly, which resulted in her death.
Prior to 2014, holding cruise ship doctors and nurses accountable for medical mistakes had been nearly impossible for injured passengers because for decades cruise lines have been insulated from legal liability when passengers received inadequate or negligent medical care from the ship's doctors and nurses. The 11th Circuit Court of Appeals overturned this standard in a case called Franza v. Royal Caribbean. The United States Appellate Court has made it far easier for injured passengers to sue cruise lines for medical malpractice. 
Sailing into Danger
Sometimes a cruise ship will make an active decision to sail directly into a situation that presents a danger to passengers on-board, rather than deciding to go off course and avoid the hazard. This situation occurred in 2017 when the Norwegian Breakaway sailed directly into a "bomb cyclone," despite being warned of the impending weather conditions. The same occurred in February 2016 when the crew of the Royal Caribbean's Anthem of the Seas chose to sail into hurricane-strength winds and waves, distressing all passengers on-board and injuring several.  Having a cruise ship deviate from the original itinerary costs the cruise line time and money- but many times, it is in the best interest of the passengers and crew members on board. 
Dangerous Off-Shore Excursions
One of the many features offered through a cruise are the exciting off-shore excursions located at each port. Cruise liners routinely recommend various excursions at each port to passengers. These excursions include a variety of activities, and one popular attraction involves zip lining tours. Problems arise when a cruise company contracts with a less than reputable excursion company.
If it is discovered that the cruise company is aware that an activity or a company offering an activity is unsafe, the cruise line along with the excursion company could be held liable for any injuries sustained on that unsafe activity. In the summer of 2018, after a Royal Caribbean passenger was killed while on a ziplining excursion in Roatan, Honduras, it was discovered that the company had received dozens of complaints about the safety of this specific activity but did nothing with these complaints. One should never assume that a cruise company has researched and approved all listed excursions. We recommend you always do your own research and properly plan out excursion activities before exploring any of the popular cruise ship ports. 
Man-Overboard Detection Systems
When someone falls overboard a cruise ship, questions of what could have been done to prevent the tragedy almost always arise. The technology to prevent these tragedies is there, but for some reason, cruise lines have resisted installing man-overboard detection systems to help prevent these tragedies. The cost is approximately $300,000 to $500,000 per vessel, which may seem like an extreme cost.  However, it pales in comparison to the loss of a human life.
INJURED ON A CRUISE SHIP OR CRUISE SHIP EXCURSION? SPEAK TO A CRUISE SHIP ACCIDENT LAWYER TODAY: 1-866-597-4529.
Aronfeld Trial Lawyers is a maritime personal injury firm located in Miami, Florida since 1991.  We have fought hard to hold cruise lines accountable when they put their profits ahead of passenger safety.  We are available 24/7 and encourage you to contact us even if you are still on your cruise. The sooner we can begin our investigation and preservation of key evidence, such as the CCTV footage of your trip and fall, slip and fall, assault or other type of injury the more likely we will be able to understand and prove how the incident occurred. Remember, the cruise lines have the most aggressive and well-funded defense lawyers in the world- protecting their profits.  You need an experienced legal advocate in your corner who will fight to obtain the compensation you deserve for lost wages, medical expenses, transportation reimbursement and pain and suffering.  Call us today and speak with a cruise ship claims lawyer about your potential claim- toll free 1-866-597-4529, 305-441-0440, or by email. We are ready to help.