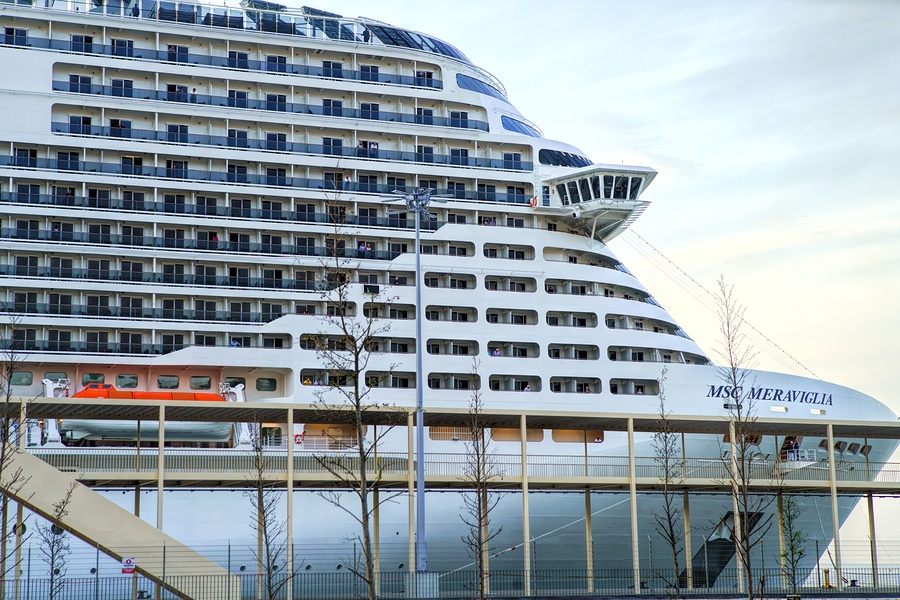 The MSC Meraviglia, the newest and largest cruise ship operated by MSC Cruises, has made its arrival to its new home in Port Miami and is set to begin Caribbean cruises this winter.
The MSC Meraviglia is one of the newest megaships to set sail in the Caribbean, weighing 171,598 gross tons and capable of carrying 4,488 passengers. The Meraviglia is the largest ship in the MSC fleet.
The MSC Meraviglia joins a number of other MSC ships, including the MSC Seaside, MSC Armonia, and MSC Divinia.
MSC Cruises is said to be one of the fastest-growing cruise lines in the world. The ships have European influence, but the company is hoping to expand its reach, specifically in North America.
MSC Cruises is set to expand its fleet from 17 ships currently to 25 over the course of the next eight years, this is in response to the growing cruise ship industry and demand. They are currently working on building a state-of-the-art double berth cruise facility in Miami, along with several other renovations being done by other major cruise liners.
The MSC Meraviglia will be sailing on two different seven-night western Caribbean cruises between November 10, 2019, and April 5, 2020. The ship will be stopping at ports in Jamaica, the Cayman Islands, Belize, Mexico, the Bahamas, and Honduras.
So far, MSC has two alternating itineraries scheduled for the MSC Meraviglia, including a seven-night sail visiting Jamaica, the Cayman Islands, Mexico, the Ocean Cay MSC Marine Reserve and Bahamas. The cost per passenger staying in a balcony stateroom will start at $629. The other option involves a seven-night cruise visiting Miami, Florida, Honduras, Belize, Mexico, the Ocean Cay MSC Marine Reserve, and the Bahamas. The price per passenger for a balcony stateroom on this trip starts at $639 per person.
Upon the conclusion of its inaugural season in Miami, the MSC Meraviglia is scheduled to return to Northern Europe for the summer of 2020. The ship is then set to return to the United States in October 2020 for three 10-night trips from New York to Canada and New England. Upon the conclusion of these trips, the MSC Meraviglia will return to Miami for seven-night Caribbean voyages again.
INJURED ON A CRUISE SHIP OR CRUISE SHIP EXCURSION? SPEAK TO A CRUISE SHIP ACCIDENT LAWYER TODAY: 1-866-597-4529.
If you have been injured on your cruise, on a wet and slippery deck, down a poorly lit staircase or steep gangway, in port on an excursion, or on a tender boat- it is important that you speak as soon as possible with a lawyer who specializes in personal injury claims against cruise lines. Most cruise lines, including Carnival, Royal Caribbean, Celebrity, Norwegian, MSC, Disney, Holland America, Princess, Costa, Regents Seven Seas and Oceania require that claims against them be pursued in a very specific place under very strict deadlines. Failure to comply with each individual cruise lines deadlines can result in a complete loss of any and all legal rights.
Aronfeld Trial Lawyers is a personal injury firm located in Miami, Florida since 1991.  We have fought hard to hold cruise lines accountable when they put their profits ahead of passenger safety.  We are available 24/7 and encourage you to contact us even if you are still on your cruise. The sooner we can begin our investigation and preservation of key evidence, such as the CCTV footage of your trip and fall, slip and fall, assault or other type of injury the more likely we will be able to understand and prove how the incident occurred. Remember, the cruise lines have the most aggressive and well-funded defense lawyers in the world- protecting their profits.  You need an experienced legal advocate in your corner who will fight to obtain the compensation you deserve for lost wages, medical expenses, transportation reimbursement and pain and suffering.  Call us today and speak with a cruise ship claims lawyer about your potential claim- toll free 1-866-597-4529, 305-441-0440, or by email. We are ready to help.
Source: Cruisehive.com