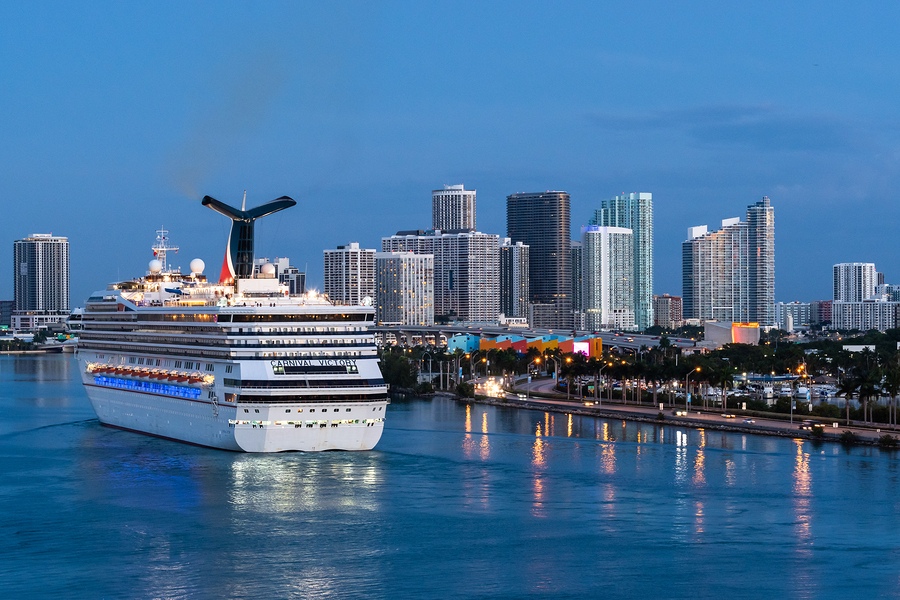 The Miami skyline is set for an all-new, modern look as Port Miami is scheduled for a $1.5 billion makeover. Many terminals are set for renovations, affecting multiple cruise companies, which will drastically change the Miami skyline in 2022.
In 2018, Royal Caribbean made the announcement that it would renovate Terminal A at the price of $266 million, and Norwegian Cruise Lines soon followed with news of upcoming renovations. Virgin Voyages also has plans to build a palm tree forest themed cruise terminal for their passengers by 2021, which will directly face downtown. MSC is also working on developing a winged $300-million terminal.
In total, Miami-Dade County will be seeing $1.5 billion in public and private money to build five new cruise terminals, as well as two company headquarters. These renovations mark the most dramatic remake of a port in decades. With all this new development, along with technology added to these terminals, it is hoped that cruise lines will be able to more efficiently get passengers on their cruise ships, improving the boarding processes, while increasing capacity.  The price tag alone shows just how much Miami values the cruise industry in its local economy.
It is estimated that 6.8 million people sailed from Port Miami in 2019, which is a 66 percent increase from 2009.  Port Miami has always been a popular port due to its proximity to the Caribbean. However, criticism has arose over recent years with the fact that the port could not keep up with the advancements in the industry. Prior to any renovations, Port Miami could not accommodate some of the larger ships, many measuring at 1,200 feet in length. As a result, companies with these large ships have had to divert north to Port Everglades in Fort Lauderdale.
Now that Port Miami will be able to house these mega ships, it is hoped that the port will be back at the top as the busiest cruise port in the world. The existing terminals are relatively nondescript, consisting of mostly windowless, boxy buildings. The new development will give the port a sleeker, more modern look.
Norwegian Cruise Line's updated Terminal B is scheduled for completion by June 2020. MSC Cruises hopes to have its terminal and offices completed by October 2022. Not to be outdone, Carnival Corporation's terminal, Terminal F, will be undergoing a $195 million renovation. One of these improvements scheduled in the renovation will allow the company to accommodate their new liquefied natural gas-powered ships, which are set to arrive by 2022. After the renovations are complete, Terminal F will be Carnival's largest terminal in North America.
Virgin Voyages has plans to complete its terminal, Terminal V, by 2021. The company hopes the new look and renovations will give passengers the feel of being on vacation before even boarding the ship, with its palm canopy-inspired roof.
All-in-all, these updated terminals will drastically change the Miami skyline by 2022. The buildings will be visible not only on land but also from the sea, which is intentional, according to designers who hope that the buildings will serve as Miami's exposition to the public as they arrive to the port.
INJURED ON A CRUISE SHIP OR CRUISE SHIP EXCURSION? SPEAK TO A CRUISE SHIP ACCIDENT LAWYER TODAY: 1-866-597-4529.
If you have been injured on your cruise, on a wet and slippery deck, down a poorly lit staircase or steep gangway, in port on an excursion, or on a tender boat- it is important that you speak as soon as possible with a lawyer who specializes in personal injury claims against cruise lines. Most cruise lines, including Carnival, Royal Caribbean, Celebrity, Norwegian, MSC, Disney, Holland America, Princess, Costa, Regents Seven Seas and Oceania require that claims against them be pursued in a very specific place under very strict deadlines. Failure to comply with each individual cruise lines deadlines can result in a complete loss of any and all legal rights.
Aronfeld Trial Lawyers is a personal injury firm located in Miami, Florida since 1991.  We have fought hard to hold cruise lines accountable when they put their profits ahead of passenger safety.  We are available 24/7 and encourage you to contact us even if you are still on your cruise. The sooner we can begin our investigation and preservation of key evidence, such as the CCTV footage of your trip and fall, slip and fall, assault or other type of injury the more likely we will be able to understand and prove how the incident occurred. Remember, the cruise lines have the most aggressive and well-funded defense lawyers in the world- protecting their profits.  You need an experienced legal advocate in your corner who will fight to obtain the compensation you deserve for lost wages, medical expenses, transportation reimbursement and pain and suffering.  Call us today and speak with a cruise ship claims lawyer about your potential claim- toll free 1-866-597-4529, 305-441-0440, or by email. We are ready to help.
Source: Miami Herald