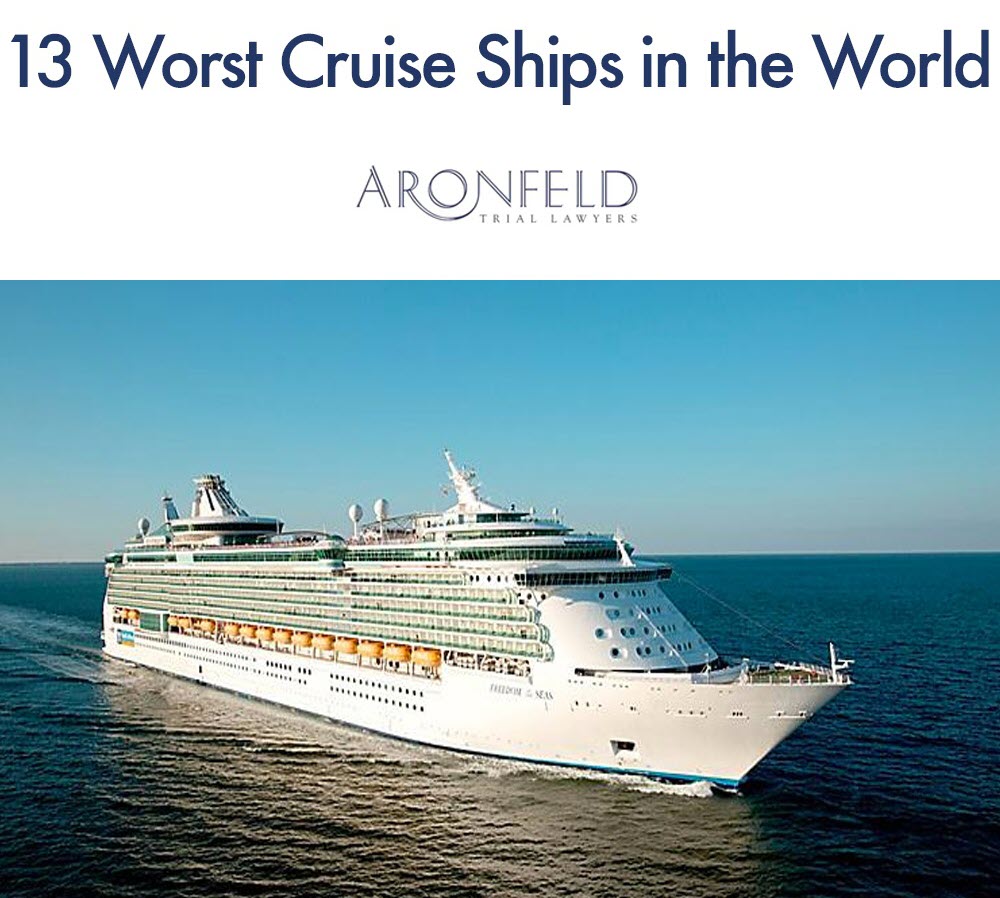 Cruise vacations are an excellent way to rest and relax, but on certain ships, the pictures that passengers have in their minds does not match up with the actual experience. The following ships have been met with less than enthusiastic reviews from passengers.   
Royal Caribbean Ovation of the Seas
For the most part, Royal Caribbean offers top-of-the-line amenities onboard its 27 ships. However, not all vessels have received positive responses from passengers, including the Ovation of the Seas.  This ship has received three out of five stars from passengers who report that the ship includes many underwhelming features. The ship may be massive, but passengers have complained about the ship's small dining spaces, average pools, and mediocre food. Even features that are meant to be impressive, such as the ship's robot bartenders, do not add much to the overall experience. 
Royal Caribbean Quantum of the Seas
Another Royal Caribbean vessel, the Quantum of the Seas, has been met with mediocre reviews. This ship was built in 2014 and was the largest of its kind at the time it was launched. However, as the years have passed, the ship has not changed with the times. The ship originally sailed in the Caribbean but now is exclusive to the Chinese market. Cold food and longboarding processes have been major factors as to why this ship has received a rating of three stars. 
Princess Cruises' Majestic
The Princess Cruise Majestic has also received a rating of three stars. Despite its name, the ship's experience is less than majestic. Many of the reasons for the average rating have to do with the ship's poor design, small cabins, and theaters, as well as staff shortages. This ship currently sails off the Australian coast. 
MSC Meraviglia
The Meraviglia is the largest ship offered by MSC with a capacity of carrying 4,500 passengers. The ship sails to destinations in both Europe and the Caribbean. Despite its size and the destinations offered, the Meraviglia has received a rating of three stars from passengers. Mediocre food, a lack of activities on the ship and unfriendly staff have been why this vessel has been met with less-than-enthusiastic reviews. 
MSC Lirica
Another MSC vessel, the Lirica has also received three out of five stars in passenger reviews. This ship was built in 2003, which makes it one of the older vessels in the MSC fleet of ships. Passengers have complained about the food quality and poor customer service, as well as its lack of entertainment options on the ship. 
MSC Armonia
Launched in 2001, the MSC Armonia is the oldest ship offered by this cruise line. Like the Lirica, the Armonia has received three out of five stars from passenger reviews. Passengers have complained about the poor food quality, as well as limited dining options. Lackluster customer service and poor cleaning standards have also led to these poor reviews.
Carnival Sunrise
Carnival Corporation has consistently been one of the more popular cruise lines with 30 ships currently running. For the most part, they have received positive reviews, but the Sunrise has fallen short with a review of 2.5 stars out of five. Passengers have complained about the long lines and crowds on the ship, as well as the loud noises throughout the vessel. Many reviewers have complained that the long lines to enjoy any of the on-board activities make it impossible to enjoy the ship. Others have complained about the crowds at the pools.
Keep in mind that the entries on this list are from dissatisfied passengers, so while their experiences were negative, yours may be different.
INJURED ON A CRUISE SHIP OR CRUISE SHIP EXCURSION? SPEAK TO A CRUISE SHIP ACCIDENT LAWYER TODAY: 1-866-597-4529.
If you have been injured on your cruise, on a wet and slippery deck, down a poorly lit staircase or steep gangway, in port on an excursion, or on a tender boat- it is important that you speak as soon as possible with a lawyer who specializes in personal injury claims against cruise lines. Most cruise lines, including Carnival, Royal Caribbean, Celebrity, Norwegian, MSC, Disney, Holland America, Princess, Costa, Regents Seven Seas and Oceania require that claims against them be pursued in a very specific place under very strict deadlines. Failure to comply with each individual cruise lines deadlines can result in a complete loss of any and all legal rights.
Aronfeld Trial Lawyers is a personal injury firm located in Miami, Florida since 1991.  We have fought hard to hold cruise lines accountable when they put their profits ahead of passenger safety.  We are available 24/7 and encourage you to contact us even if you are still on your cruise. The sooner we can begin our investigation and preservation of key evidence, such as the CCTV footage of your trip and fall, slip and fall, assault or other type of injury the more likely we will be able to understand and prove how the incident occurred. Remember, the cruise lines have the most aggressive and well-funded defense lawyers in the world- protecting their profits.  You need an experienced legal advocate in your corner who will fight to obtain the compensation you deserve for lost wages, medical expenses, transportation reimbursement and pain and suffering.  Call us today and speak with a cruise ship claims lawyer about your potential claim- toll free 1-866-597-4529, 305-441-0440, or by email. We are ready to help.
Source: Far and Wide – Worst Cruise Ships