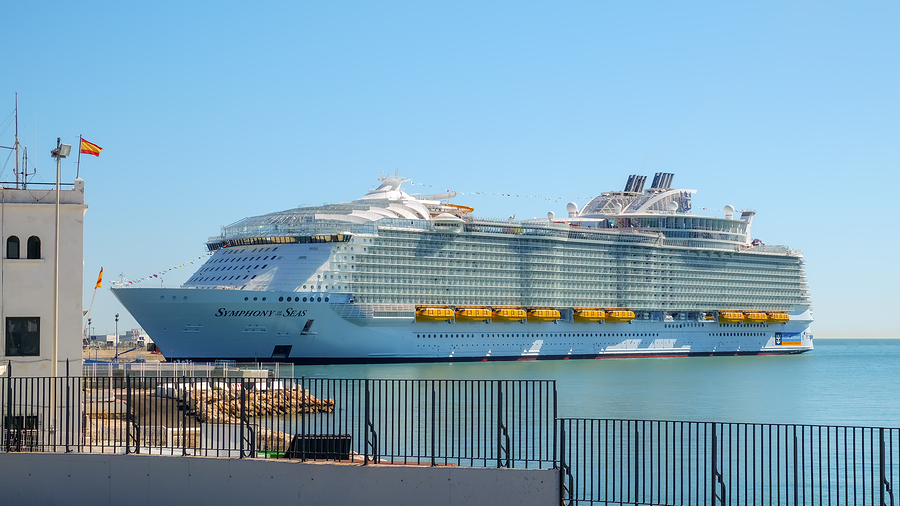 An Australian man tragically died after falling overboard a Royal Caribbean cruise ship during the early morning hours on Wednesday.
The incident occurred on Royal Caribbean's Symphony of the Seas as it was sailing to the U.S. Virgin Islands as part of a 7-day Eastern Caribbean voyage. The ship had just left St. Kitts and was heading towards St. Thomas when the incident occurred. As soon as the crew was alerted, the ship turned around and a rescue boat was dispatched following a "man overboard" call.
The man has been identified as Jonathan Pfahl, 37, of Sydney, Australia.  He was a London-based entrepreneur who founded the company, Rockstar Group, an organization focused on mentoring young entrepreneurs and investing in their businesses.   Pfahl was on the cruise ship with his wife and two young children.
The exact circumstances of how the accident occurred are not clear at this time, but the cause of death has been determined to be drowning.
Authorities are continuing to investigate what led to the man falling overboard. Since the ship was registered in the Bahamas, the victim was not a U.S. citizen, and the incident occurred in international waters, the U.S. Coast Guard would not be conducting the investigation.
Royal Caribbean has yet to install an automatic man overboard system on their ships that would instantly alert the crew and send signals to the bridge when someone has fallen overboard. These systems use motion detectors that send an alarm any time they sense someone has fallen overboard so that a rescue can occur as quickly as possible.
INJURED ON A CRUISE SHIP OR CRUISE SHIP EXCURSION? SPEAK TO A CRUISE SHIP ACCIDENT LAWYER TODAY: 1-866-597-4529.
If you have been injured on your cruise, on a wet and slippery deck, down a poorly lit staircase or steep gangway, in port on an excursion, or on a tender boat- it is important that you speak as soon as possible with a lawyer who specializes in personal injury claims against cruise lines. Most cruise lines, including Carnival, Royal Caribbean, Celebrity, Norwegian, MSC, Disney, Holland America, Princess, Costa, Regents Seven Seas and Oceania require that claims against them be pursued in a very specific place under very strict deadlines. Failure to comply with each individual cruise lines deadlines can result in a complete loss of any and all legal rights.
Aronfeld Trial Lawyers is a personal injury firm located in Miami, Florida since 1991.  We have fought hard to hold cruise lines accountable when they put their profits ahead of passenger safety.  We are available 24/7 and encourage you to contact us even if you are still on your cruise. The sooner we can begin our investigation and preservation of key evidence, such as the CCTV footage of your trip and fall, slip and fall, assault or other type of injury the more likely we will be able to understand and prove how the incident occurred. Remember, the cruise lines have the most aggressive and well-funded defense lawyers in the world- protecting their profits.  You need an experienced legal advocate in your corner who will fight to obtain the compensation you deserve for lost wages, medical expenses, transportation reimbursement and pain and suffering.  Call us today and speak with a cruise ship claims lawyer about your potential claim- toll free 1-866-597-4529, 305-441-0440, or by email. We are ready to help.