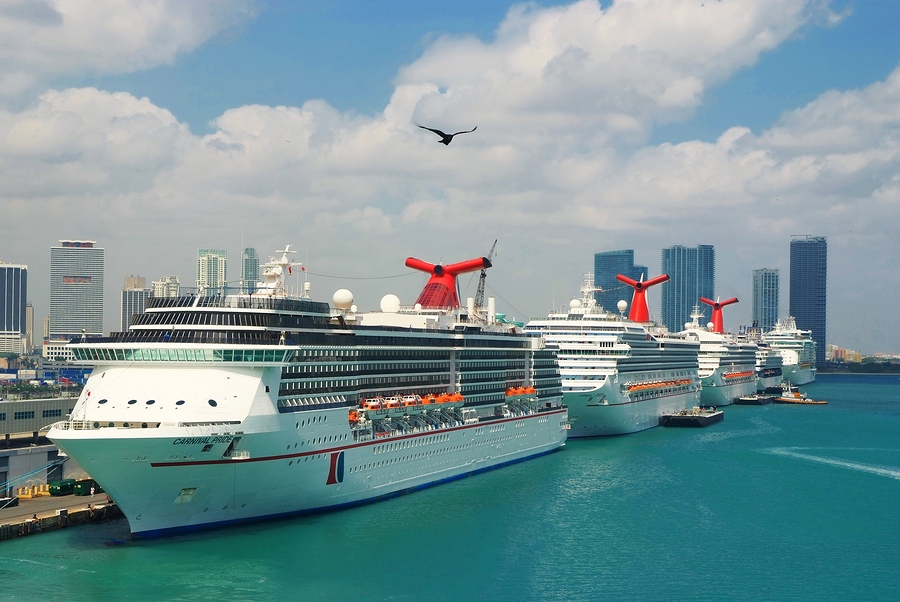 As the Labor Day holiday weekend approaches, all eyes are on Hurricane Dorian.  The storm is expected to strengthen by Friday into a major hurricane, according to the National Hurricane Center. Hurricane Dorian could hit the Florida coast as a Category 4 storm, with winds of at least 130 miles per hour. Forecasters say the hurricane could make landfall on Monday morning, but models have shown divergent tracks for the storm's path, so officials have warned Floridians from Miami to Jacksonville to be prepared.
Due to these storm predictions, many of the major airlines have been issuing travel advisories and rerouting flights. Companies, such as American Airlines and Delta Airlines, are waiving flight change fees for travelers who are adjusting their travel plans due to weather.
Anyone who will be traveling to any of the airports in the impacted areas in the Caribbean should be able to change their flight itineraries free of charge.
Carriers including American Airlines, Spirit, Frontier, Delta and Southwest have all issued waivers with unique stipulations for customers traveling to the Caribbean and Puerto Rico area.
Many of the major cruise lines have also been forced to adjust their itineraries due to the storm. The Allure of the Seas, Symphony of the Seas, and Harmony of the Seas have all replaced specific stops in the storm's path. Royal Caribbean Cruise Line (RCCL) and Disney Cruise Line (DCL) have modified their intended routes for ships departing Florida's Port Canaveral ahead of the storm.
Royal Caribbean's Allure of the Seas, Harmony of the Seas and Symphony of the Seas, as well as DCL's Disney Fantasy ship, will all now alter the route from an eastern to western Caribbean path to avoid Dorian's anticipated track. Royal Caribbean announced on Thursday that as an act of precaution, they are closing their private Coco Cay Island for safety reasons.
Officials from both Carnival Cruise Line and Royal Caribbean International have stated that they will continue to monitor the storm over the course of the next few days and will make additional adjustments as needed.
INJURED ON A CRUISE SHIP OR CRUISE SHIP EXCURSION? SPEAK TO A CRUISE SHIP ACCIDENT LAWYER TODAY: 1-866-597-4529.
If you have been injured on your cruise, on a wet and slippery deck, down a poorly lit staircase or steep gangway, in port on an excursion, or on a tender boat- it is important that you speak as soon as possible with a lawyer who specializes in personal injury claims against cruise lines. Most cruise lines, including Carnival, Royal Caribbean, Celebrity, Norwegian, MSC, Disney, Holland America, Princess, Costa, Regents Seven Seas and Oceania require that claims against them be pursued in a very specific place under very strict deadlines. Failure to comply with each individual cruise lines deadlines can result in a complete loss of any and all legal rights.
Aronfeld Trial Lawyers is a personal injury firm located in Miami, Florida since 1991.  We have fought hard to hold cruise lines accountable when they put their profits ahead of passenger safety.  We are available 24/7 and encourage you to contact us even if you are still on your cruise. The sooner we can begin our investigation and preservation of key evidence, such as the CCTV footage of your trip and fall, slip and fall, assault or other type of injury the more likely we will be able to understand and prove how the incident occurred. Remember, the cruise lines have the most aggressive and well-funded defense lawyers in the world- protecting their profits.  You need an experienced legal advocate in your corner who will fight to obtain the compensation you deserve for lost wages, medical expenses, transportation reimbursement and pain and suffering.  Call us today and speak with a cruise ship claims lawyer about your potential claim- toll free 1-866-597-4529, 305-441-0440, or by email. We are ready to help.
Related Resources:
https://www.foxnews.com/travel/hurricane-dorian-airlines-cruises
https://www.msn.com/en-us/travel/news/tropical-storm-dorian-impacting-flights-cruise-itineraries-in-caribbean/ar-AAGlYzk?li=BBnbklE